Iceland Excursion : The Golden Circle
In the days leading to a trip, I always get restless. I check, check and triple-check everything I planned to see and do, that I have the plane tickets printed out, Visa at the ready when needed (which isn't much when you're European travelling mostly in Europe, so thank you Schengen Agreement!), credit card and passport photocopied and backed-up in an e-mail box.

Work then becomes extremely difficult because I can't think of anything but the upcoming trip, concentrating is near impossible as I bore everyone around me with tidbits of info about the country I'm about to visit (for example, did you know that Icelandic people believe in the existence of elves? Or that their language hasn't changed -almost- at all since the 18th century?).

During the holiday itself, I'm always giddy, happy and relaxed. I mean, I get excited about things that I have seen/experienced back at home (snow in Iceland is better that in the Alps, beaches in Croatia are better that in Southern France - grass is always greener on the other side of the fence, I guess).

Then, it's back to daily life. And work. And the holiday feel lasts for about ... 15 days. I've been back from Iceland for exactly 15 days and I already can't stand my job sometimes, get snippy over nothing and want to get away. But to distract myself and get back to that oh-sweet holiday spirit, I have a blog on which I post about travel.

So let me revel in the beauty that is Iceland for a bit, and enjoy the trip.

I had booked several excursions in advance all packed up in the 5-days trip I took to Reyjavik, Iceland. The city (and the country) is already pretty amazing in itself but as there are so many things to see in and around Reykjavik, I really wanted to experience as much of it as possible.

The first excursion on which I went (at 8am the day after I arrived, might I add) was the Golden Circle tour. It's a guided tour that lasts from 8am to 7pm and that takes you to some remote (but still touristy) sights around the west part of Iceland no more than an hour drive from the capital city. It might be the wildest of the excursions I tested on that week because when I say remote, I DO mean remote.

The tour starts with a visit to an active geothermal energy plant, located at the foot of an active volcano, to learn about the science behind harnessing the earth's powerful heat. Boiling water is basically extracted from there and send to heat up the whole of Reykjavik. Because of this, everyone's heating over there is water based and as a natural resource, people pay a ridiculously small about to get heating. Most of the time, heaters are never turned off and when it's too hot, people just open their home windows (even if it's -10°C outside, I witnessed it).

The tour is then off to Gullfoss, an impressive waterfall along the Hvitá river with an interesting. As it was the dead middle of winter when I went, the whole landscape was covered in snow and part of the waterfall was so frozen that it had turned blue. Just beautiful. Along the way, the tour stops at Kerið crater, as magnifiscent in winter as in summer.

Afterwards, it's Geysir time! Which originated the term 'geyser' and is a geothermally active area with regular geyser eruptions and other steamy natural features. The guide told us that the biggest and most active geyser had been ruined because of tourism because, to make the eruption even more impressive Icelanders would put liquid soap in it which ultimately ceased all activity in that crater. The biggest one still active is still untouched and erupts up to 8 meters high. What is really incredible is that the whole area is like a big 100°C boiling pot (and smells pretty strongly of sulfure) but it's so cold outside that the snow covering it does not melt.

The last stop is for the Þingvellir National Park, the site of the country's long-ago first parliament along the edge of the great rift being created by the drifting apart of the Eurasian and American continental shelves. Interestingly, scenes from Games Of Thrones were shot there as the Wall in the series (I've never watched but the guide told us) IS the rift between the American and Eurasian shelves. It was pretty awesome to be standing in the middle of two continents, it felt like being in two places at once, 'A walk to remember' style!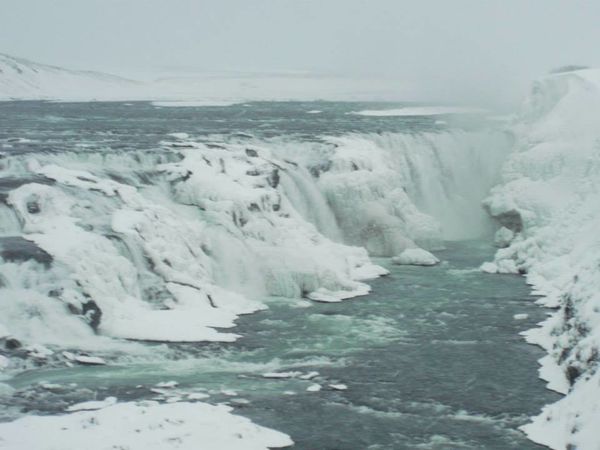 CLICK ON THE PICTURES TO SEE THEM FULLY - 1) Geothermal Plant and Volcano, 2) Kerið crater, 3) Gullfoss Waterfall, 4) Geysir, 5) Þingvellir National Park between the two shelves